Our vision at Smithy Bridge church is to serve our neighbours, not simply on a Sunday but throughout the week, sharing God's love in practical ways.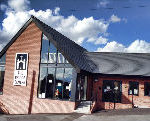 To do so we opened The Bridge Centre opened in September 2015. The centre is open Monday to Friday offering meals and snacks, a place to rest and relax or to pick up a bargain in the shop. It is also a hub of weekday activity for the church
Find out more at The Bridge Centre website 
Follow The Bridge Centre on Facebook
Volunteer vacancies
We still need volunteers to work in the Bridge Centre café. This can be in four hour shift or for two hours over lunch times. We also need staff in the shop on Tuesday morning and afternoon and Wednesday afternoon.
For more information call 01706 378550 or email thebridgecentre@mail.com